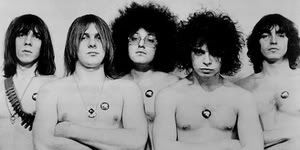 "On voulaient que notre nom sonne comme un numéro de série"
M.C.5.
La messe est dite.
Detroit, Michigan, début des années 60's, le mouvement hippy parti de Californie gagne peu à peu le continent jusqu'a venir s'échouer sur la Motor City et titiler par la meme occasion 2 jeunes voyous de base, branleurs, et aussi amis depuis l'age d'aller au collège: Wayne Kramer et Fred "Sonic" Smith. A cette époque pas encore révolue, les deux futurs comparses ne vivent que pour les courses de dragsters, la baise, l'amour du R'n'B et leur groupe de rock'n'roll, les
Vibratones
pour Wayne et les
Bounty Hunters
pour Sonic (qui avait appelé son groupe du nom du dragster d'une de ces idoles: Conrad Colletta), encore à l'époque rivaux. Mais c'est quand Rober Derminer, un freakbeat natif de Detroit les rejoint que tout commence véritablement.
Derminer étant plus agés que les autres gars du groupes et étant très impliqué dans la politique de Detroit, il devient manager du groupe après avoir passer une audition pour la place de bassiste, qu'il lachera très vite pour ce concentrer uniquement sur ces talents vocaux. C'est là qu'il se rebaptise Rob Tyner en hommage au pianist de
John Coltrane
,
McCoy Tyner
et qu'il trouve le nom du groupe qui resonnera à jamais dans la MC.
Repéré par
John Sinclair
, un activist radical, lors d'une fète donnée en son occasion (Sinclair écopa de 6 mois de prison ferme pour avoir fumé un pétard dans un lieu public), les
Mc5
qui ce jour là se produisait devant une assistance de baba hippy fan de bouffe macrobiotique, de pseudo poètes, de cortèges anti-avortement et de pleins d'autres gens à la pillosité bien plus développée que la normale, coupent les oreilles de tout le monde en leur assenant avec une immodérée violence leur putain de rock'n'roll sauvage. Belliqueux et outrancier dans le fond, brusque et brutal dans la forme les
Mc5
trou littéralement le cul de Sinclair qui s'empressera de devenir leur nouveau manager.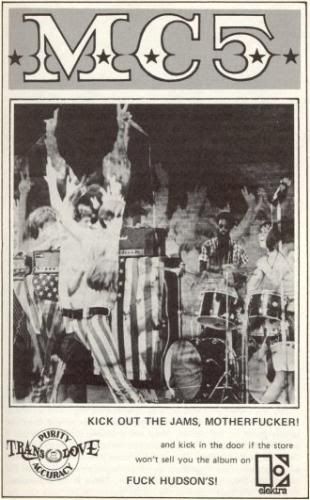 blablablabla.
Une dizaine de biscuits au hashisch plus tard (et pas mal d'autres choses en faite...) les
Mc5
montent sur la scène du Festival De La Vie qui a lieu pas bien loin de la convention national du Partit Démocrate de Chicago mais se font démonter la tronche par les flics (façon Custer et les Indiens tu saisis) alertés par des sympatisans démocrates à qui les discours antiguerre et peace & love arrangués à la foule ne plaisent pas.
Sa tombe bien, Danny Fields, le freakbeat de service (comme il s'appele lui meme) de chez
Elektra
est en ville pour venir les voir (signer?) et Danny adore l'action oh oui.
Le concert à lieu le 3O et 31 Ocotbre 1968 au Grande Ballroom, une immense salle de concert planté au 8952 Grand River. La salle est evidement pleine et pendant plus de 1 heure le gang (tout de satin revétu, classe man, Top of the pop!!!) déverse un rock'n'roll implacable et terrible à base de blues et d'energie atomique. Les
MC5
jouent vite, meme très vite et fort, meme très très fort!! Le temps de 8 chansons, la terre tremble.
Le concert commence par un direct "VOULEZ VOUS FAIRE PARTIE DU PROBLÈME?!! OU DE LA SOLUTION!!?" et enchaine sur un "
Ramblin Rose
" suivi du très controversé "
Kick Out The Jams
" (littéralement, faites péter les barrières!!) dût au "motherfucker" qui le suit. et qui n'est du gout de tout le monde, notamment celui des grattes-papier de chez Elektra.
"
Starship
" dont une grande partie des paroles sont issue d'un poème de
Sun Ra
, "
Motor City's Burning
" de
John Lee Hooker
revisité et allongée, Tout le concert sera saupoudré d'autant de discours révolutionaire et contestaire comme quoi la guerre c'est pas bien et qu'il faudrait mieux faire l'amour, le baratin habituel en sorte.
Ce concert, un peu à l'instar du Leeds des
Who
est considéré comme un des meilleurs, concerts, album, concert/album que nous connaissons.
Après un concert des
Stooges
, Danny se pointe à la zonmai Trans-Love, QG des
MC5
et appel
Jac Holzman
le King Of The Jungle de chez Elektra pour signer le groupe.
blabla
Voila c'est fait, les
MC5
sont signés chez
Elektra
pour
2O OOO dollars
. L'album sort bientôt.
Rambline Rose Live @ Grande Ballroom 3O Octobre 1968