Chef de file d'un mouvement musical typiquement Américain qui au prémice des années
60's
va devenir le plus prisé et apprécié, en oscillant entre
musique populaire
,
r'n'b
et
pop
,
Les Shangri-Las
ou "
Reines du mélodrame adolescent
" comme elles seront très vite repabtisées, sont sans nul doutes à l'origine d'un des plus stupéfiant classique du genre:
Leader Of The Pack
.
"
Le Chef De La Bande
", chanson composée à la base pour Les Bunnies par
George "Shadow" Morton
(les noms de Jeff Barry et Ellie Greenwich n'apparaissant dans les crédits que pour des raisons commerciales) donnera à
Red Bird
, label crée par deux des plus influants songwriters pop de l'époque,
Jerry Leiber
et
Mike Stoller
, son plus gros succès en atteignant pour la première fois de sa toute nouvelle histoire la
1er
place du
Billboard 1OO
un beau Mercredi 28 du mois de Nomvembre
1968
.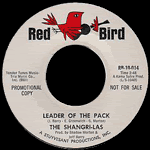 Interprétée par
deux soeurs
(
Mary
et
Elizabeth Weiss
) et
2 jumelles
(
Marguerite
"Marge" et
Mary-Ann Ganser
)
Leader Of The Pack
a (comme toute chanson de
girls group
) pour sujet les garçons, toujours, à jamais mystique (mais jamais macho), des histoires d'amour à l'eau de rose, de fugue, de premier amour, d'amants ténébreux et de pleins d'autres trucs de filles...
Mais si la surprise ne vient pas de l'originalité du
, elle viendra innévitablement de la production.


Après avoir triomphé d'un ingénieur du son plutot réticent et gagné le pari d'installer une moto (celle de Joe Veneri, l'ingénieur du son en question) dans la chambre d'écho du studio (le VROOOOOMMM VROOOOOMM!! c'est elle!!), Shadow réussi le coup de génie d'introduire dans la chanson la technique de Parlando (appelé Recitativo en français). Cette méthode qui consiste à monter la voix de Mary (la soliste) pendant le bridge donnera pour ains dire, l'illusion qu'en plus de partager ses confidences avec les autres Sangri-Las, elle se confie aussi à l'auditeur. Personne n'avait jusqu' alors expérimenter cette technique à un tel niveau et surtout sur un disque de pop (car il est coutume d'utiliser le parlando dans la musique classique). Mais la chanson regorge aussi de tout un tas de sonorités aussi étonnantes qu'insolites, tels que des crissements de pneus, des bris de verre, un accident de voiture qui rendent cette chanson si...amusante et originale au vu des productions de la concurence (The Shirelles, The Crystals, The Chiffons...)

Meme si elle fut interdite des playlists de la BBC au vu des paroles jugées trop "rebelle" et en prétextant à "un appel à la violence entre Mods et Rockers", elle s'élèvera tout de même au 3eme rang des charts Anglais en 1972.

VROOOOOOM!!!! VROOOOOOMM!!!!!